Think of unboxing an Apple product or jewelry from Tiffany's. The packaging is the first thing to catch your eye. Be it the sleek, white box that holds the latest iPhone, or the iconic blue box with a foam insert. Rigid boxes are perfect for packaging delicate items, heavy electronics, and even make great gift boxes.
Luxury brands often rely on rigid boxes for their packaging. These sturdy paperboard boxes are cut and scored to the required size before they are folded to form the basic skeleton of the box. The designs are printed and wrapped onto the skeleton giving brands the opportunity to customize these boxes to their liking, while giving them a luxurious touch.
Rigid boxes can be designed to be functional and aesthetically pleasing with these 4 tips.
1 - Save on storage costs
Commonly, rigid boxes cannot be flattened in order to sustain their sturdy skeleton and rigid nature. However, with the use of thinner material, rigid boxes can be flattened. These collapsible boxes are made of 2 separate pieces and are usually easy to assemble.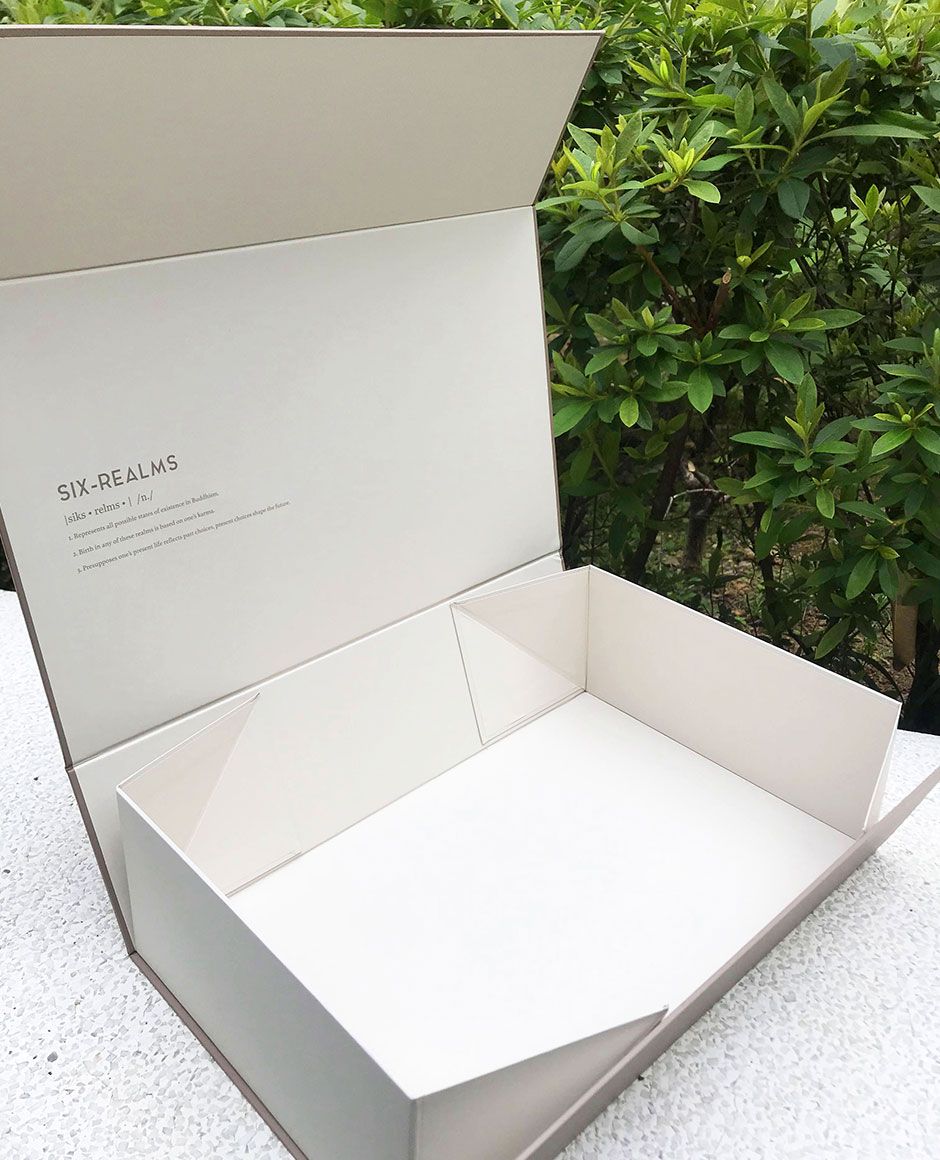 Not only are these collapsible rigid boxes cheaper to make but their flexible nature allows you to save on storage costs or space without compromising on the unboxing experience.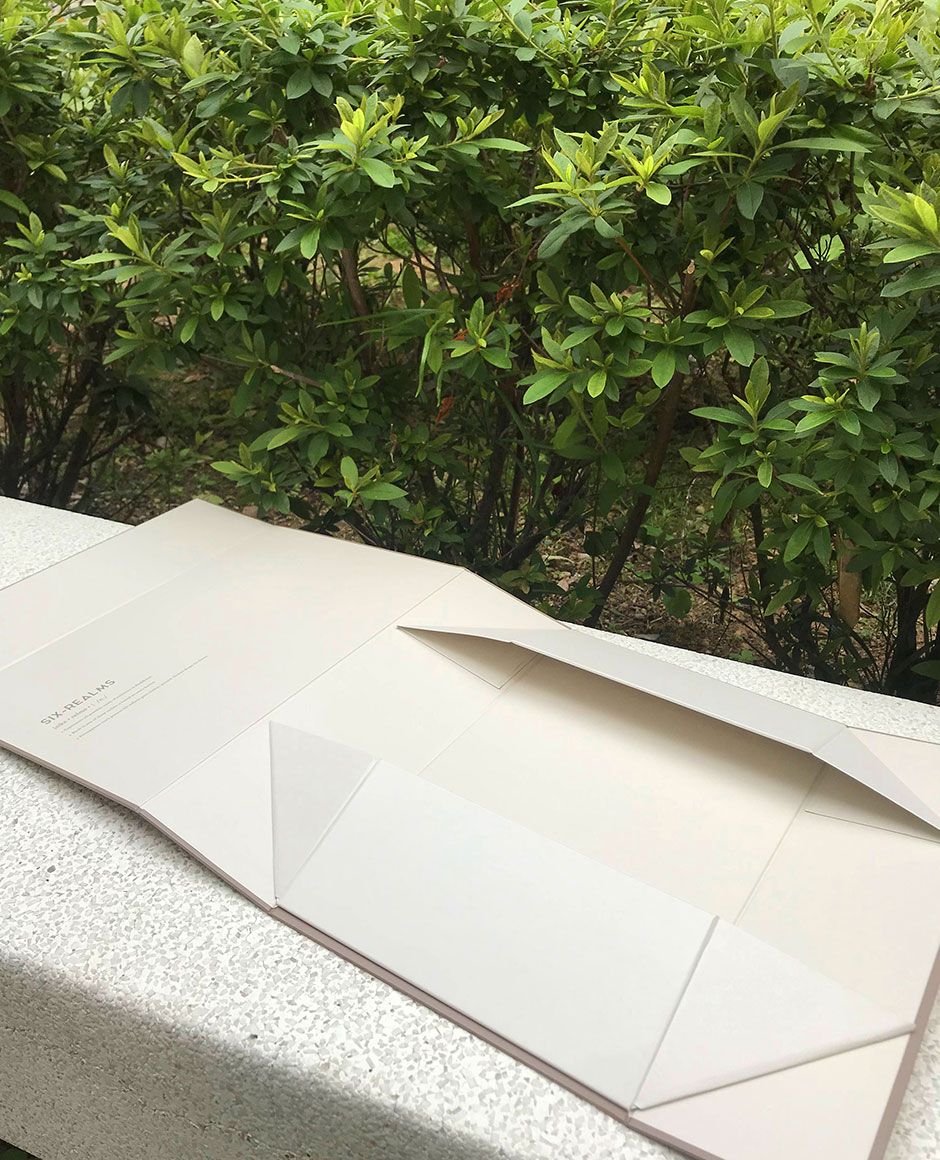 As a way to let your customers know about the features of your collapsible rigid box, make sure to include tips on the storage of the packaging and how it can be easily reused.
2 - Think of ways to secure your products
When packaging and delivering delicate items or electronics, it is important to ensure it is supported with enough material to prevent damages and breakage. If you are using a box with a separate base and lid, make sure to use a break-proof seal to enclose the box and prevent the products from falling out.
You can also use custom packaging inserts to hold your products in place and prevent them from moving around inside the box. However, do include seals and stickers to close the box even with the inserts to be sure.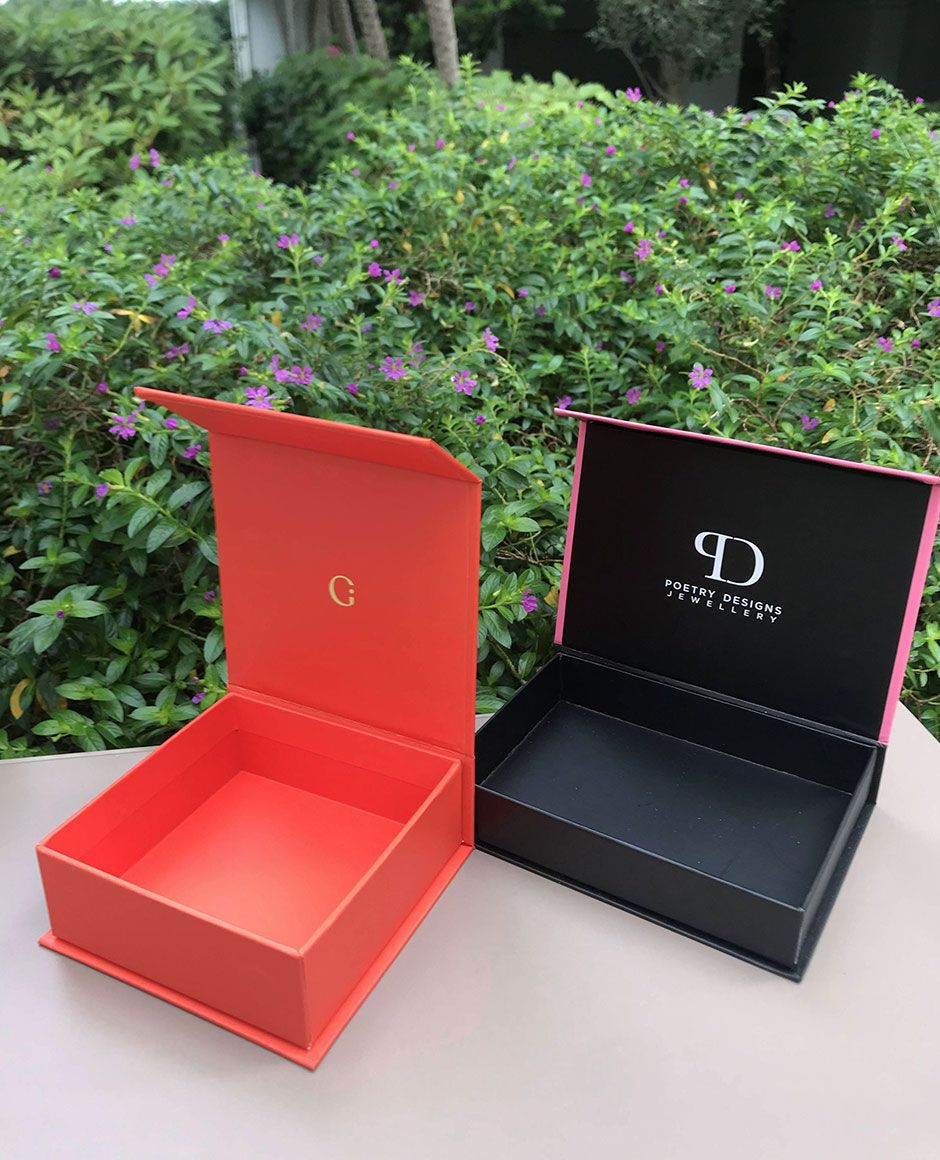 As an alternative, you can opt for magnetic lid boxes. Magnets are glued to the lid that bends down to close the box. These magnets securely close your rigid boxes and give your customers a premium unboxing experience.
3 - Eco-friendly kraft rigid boxes
Your brand can be an advocate of eco-friendly packaging and green practices by encouraging the use of paper material and opting for kraft paper boxes. Kraft rigid boxes are 100% biodegradable and compostable when uncoated with finishes or lamination. In addition to the use of kraft paper, make sure to use eco-friendly ink, such as water-based or soy-based ink.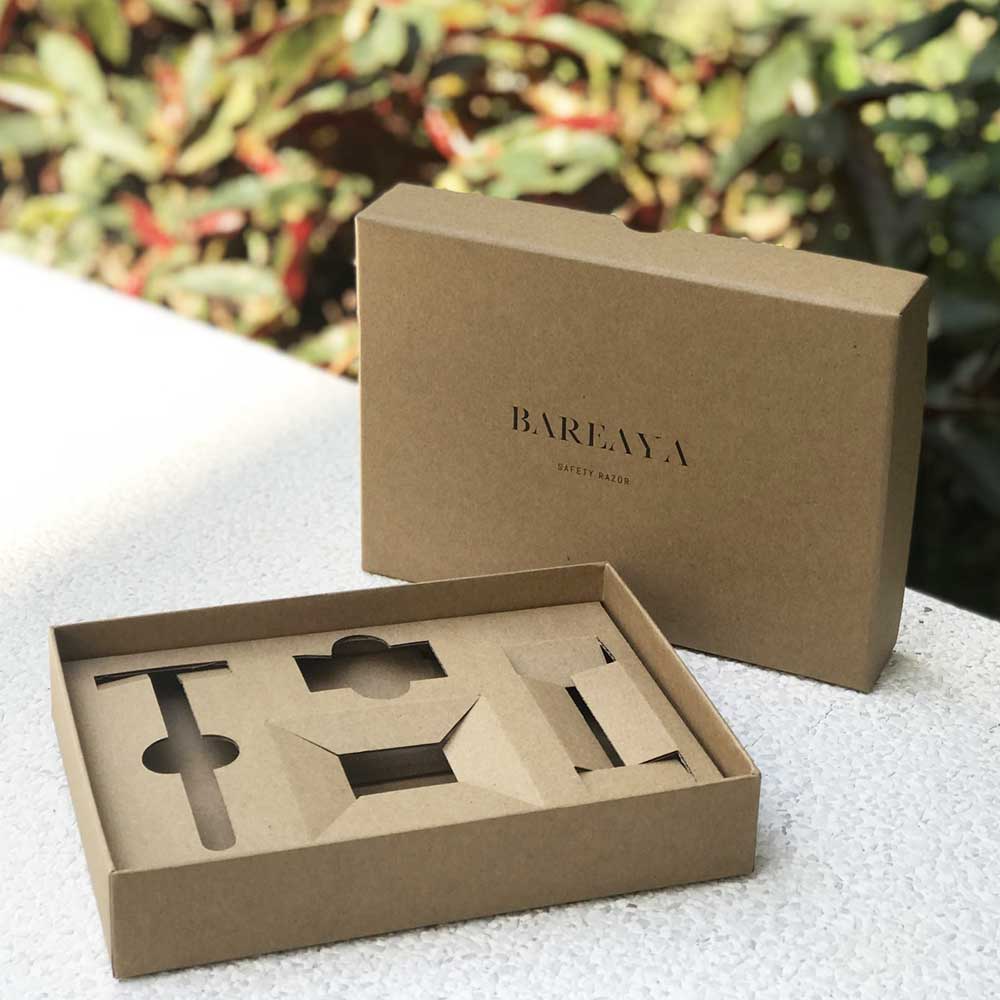 Kraft boxes are also more resistant to adverse climatic elements like heat, moisture/humidity, and even shock. While brown kraft boxes don't typically scream 'luxury', the use of minimalistic designs and the right branding material can even convert these kraft boxes into premium packaging at a much lower cost. Printing white ink on kraft paper can give your packaging an elegant, minimal look. Find out more about printing on kraft paper here.
4 - Fully customizable
Rigid boxes look great even with minimal design and lamination. The use of durable material gives the box a stunning look almost eliminating the need for complex graphics.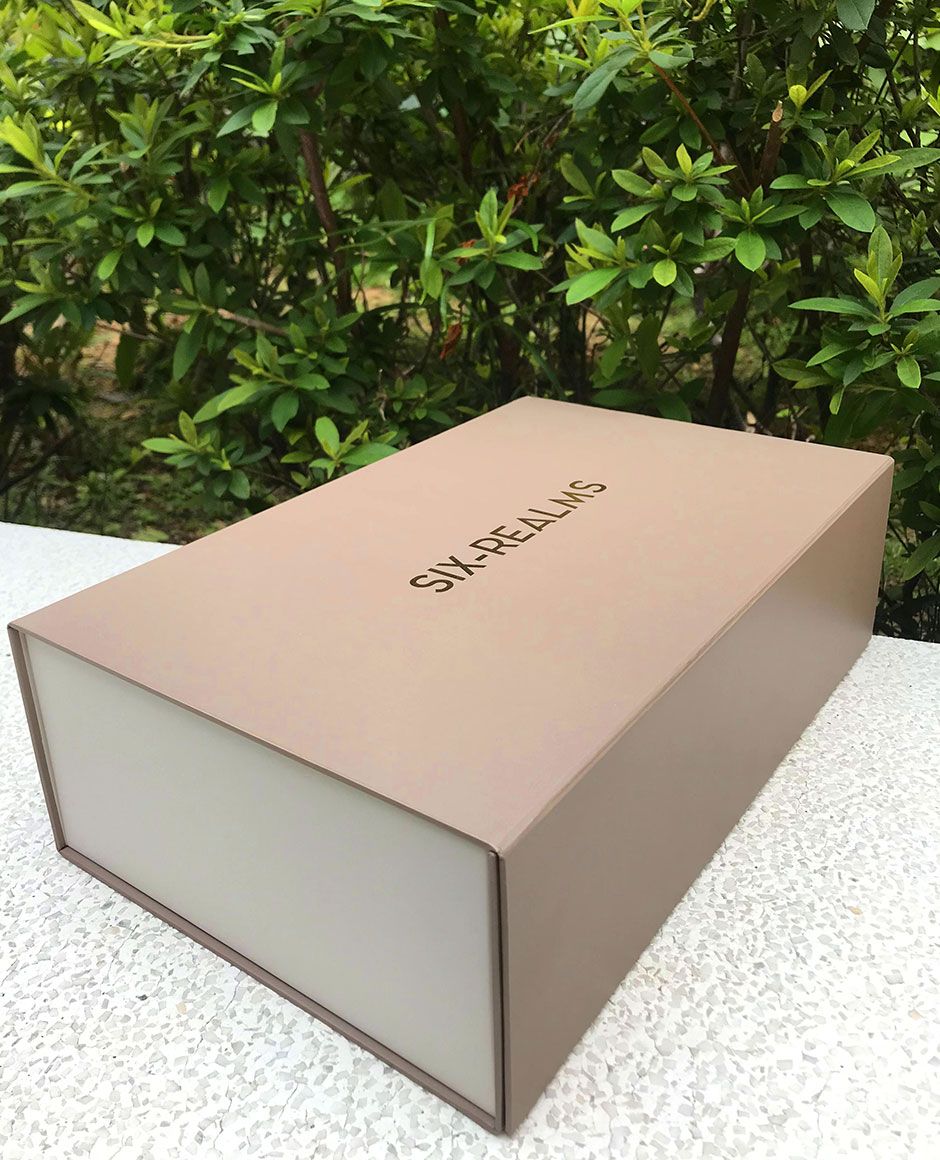 Some brands choose to go for single-colored boxes with just the logo printed. This practice does save them extra money which can be put into including add-ons such as embossing, foil stamping, etc. However, if your boxes do need some jazzing up, don't hesitate to use patterns and bold colors.
--
For more inspiration on rigid box designs, check out our rigid box showcase page here.
And be sure to check out tips for designing other packaging types: