Corporate gift boxes and gift sets have been the go-to way for many companies as a way to welcome new employees, encourage and motivate teams, and ring in the holiday season with their clients. Upholding this business tradition says a lot about companies and the commitment they have to their stakeholders.
Furthermore, making them feel happiness, surprise, and belonging ensures they never forget their value. Moreover, corporate gifts also help tell the story of your brand and reflect its values and mission. What's more? It impacts your business indirectly too. The 2020 Business Gifting Report states that 68% of people who have received a "memorable" gift basket or gift box from a business said it strengthened their relationship with the business.
A lot of important elements contribute to how well your gift is received by your clients and employees. Your selection of gifts, how it's going to be delivered to your client or employee, and of course, the packaging. Your packaging essentially makes the first impression on the recipient and it is important to make sure that your packaging looks premium and of high quality. Here are 4 tips to keep in mind when it comes to designing your corporate gift packaging.
1 - Gift bags vs. gift boxes
53% of respondents in the 2020 Business Gifting Report said they would be "more delighted" by a gift that had a positive social impact. So it goes without saying that your packaging material needs to reflect your brand sustainable practices and CSR initiatives. One of the easiest ways to do this is to opt for paper-based packaging.
Paper bags are easy to use and require no assembling on your end. These swag bags can hold your gifts and can also accommodate your branding material by printing on the outside. Moreover, they are easily recyclable.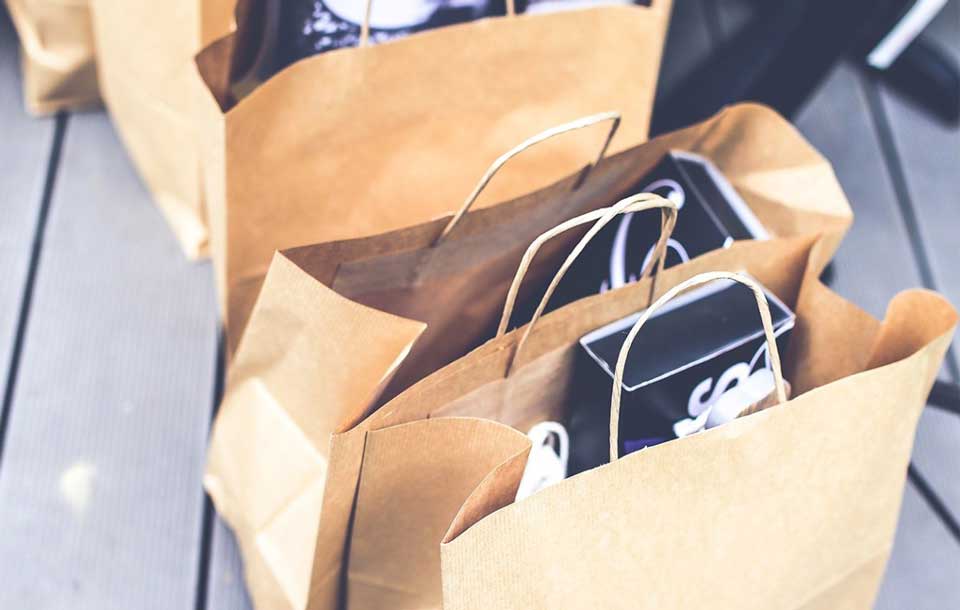 If you want more definition and structure with your packaging, paper boxes are the way to go. Paper-based packaging not only speaks volumes about your environmental commitment but these boxes are 100% recyclable. You can go one step further and use soy ink to print your branding material, which ensures these boxes are biodegradable. Mailer boxes work best when it comes to packaging different products. Mailer boxes are made of thick cardboard ensuring more sturdiness than paper bags. Additionally, these boxes are easy to assemble and give your recipient an unforgettable unboxing experience.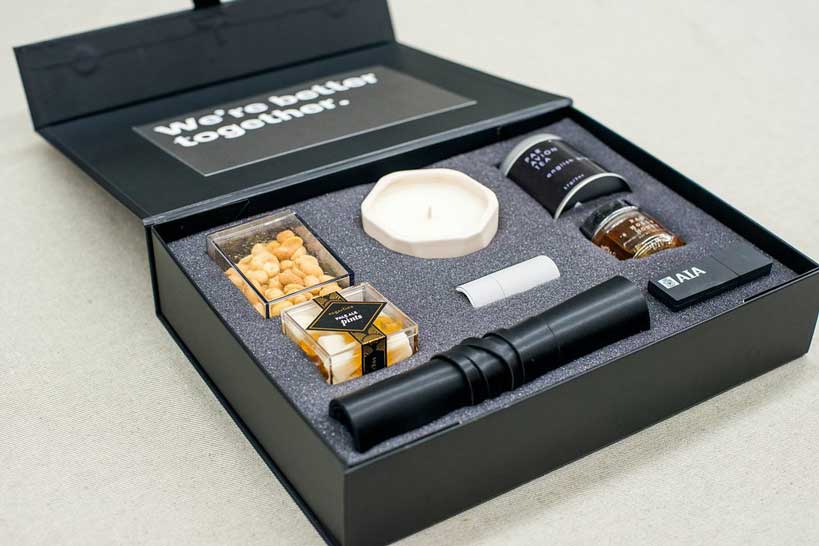 Foldable rigid boxes with magnetic lids are another, slightly more premium option to go for. Rigid boxes are made of paperboard which is thicker and offers more protection than other standard boxes. The magnetic lid ensures the boxes are secured safely during transportation.
In both of the case of mailer boxes and rigid boxes, including paper or foam inserts enhances the presentation of your selection of gifts. Inserts ensure your gifts are in one place and don't move around when being transported. Inserts are definitely something to consider if your gifts include electronics, glass, or delicate items.
2 - There is something such as too much packaging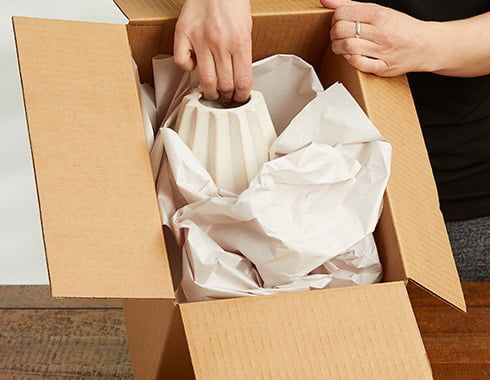 No one likes to go through layers and layers of protective material to find their gifts. There is something such as over-packaged products which leave your recipients frustrated. Moreover, these packaging pellets and bubble wrap, when used are eco-unfriendly and leave the employee or client with a lot of waste.
Going with the mantra less is more, try to keep your packaging light and minimal. This can include the choice of box, as mentioned above, or including inserts (see point 1). If you really need some sort of packaging filler, opt for paper or cloth bags to package your gifts before placing them inside the box.
3 - Optimizing your packaging costs
Your packaging need not be the most expensive thing about your corporate gift or swag bag. Yes, choosing to include printing and choosing premium packaging isn't exactly cheap, but there are ways to offset the cost.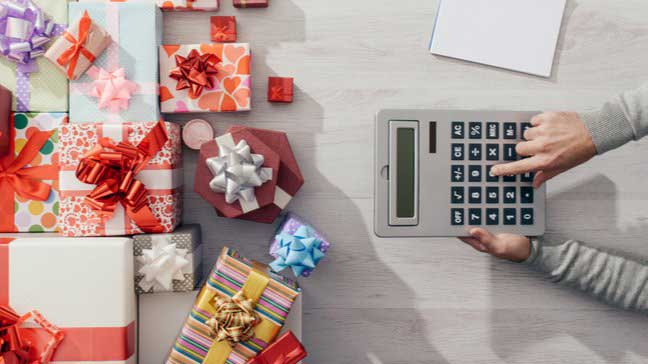 Two things to keep in mind when planning your corporate gifting strategy are the size of the packaging and the actual gifts you are going to package. Make sure to keep the gift list to 1-3 items that your clients and employees will appreciate. For example, include a candle, bottle of wine, and stocking in your Christmas gifts, but don't overwhelm your clients with tons of food and a handful of pine cones. Focus on one high-quality gift which also balances your prince point.
Another way to offset costs is to optimize the shipping. If you are shipping to clients overseas or around the world, make sure you plan out your packaging and shipping consequently so you can access what kind of boxes work best for you. In some cases, shipping heavier shipments by ocean is cheaper than shipping lighter shipments by air. Keep in mind that you must also consider the timeline of when you want the gifts to reach its destination. Shipping by ocean generally takes a longer time than shipping by air.
4 - Include add-ons in your packaging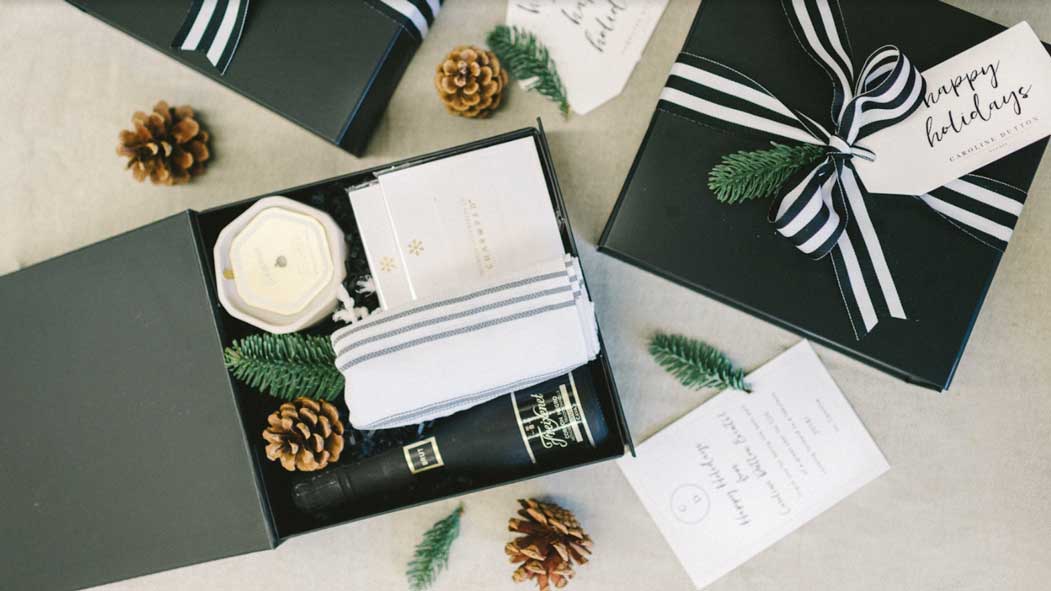 As much as your employees and clients are looking forward to their gifts during the holiday season, they also want some elements in the packaging that personalize the entire experience for them. Add Christmas cards or coupons to your partner's businesses. This puts you not only in the good books of your partners but also catches the attention of your clients and employees.
Do include thank you notes or personal messages to give them a sense of belonging. These notes also allow you to include tidbits of information about your brand that your stakeholders might have missed out on. For example, consider framing your thank you statement as "Thank you for your support and hard work in helping us reach a new high in our market share." This not only impresses them but also encourages them to find out more and have faith in your business.
Now that we have equipped you with ideas and tips for packaging your corporate gifts, time to get to picking your gifts and designing your packaging.
We have some more tips to offer for other kinds of packaging. Check them out here.