Whether it's soy candles or wax tealight candles displayed on store shelves or online, custom candle packaging can help grab the attention of buyers and turn them into loyal customers. These boxes not only give your products an exciting unboxing experience but also provide safe and sturdy packaging.
Candle packaging needs to reflect the delicacy and luxury of the product inside. It's often designed to provide protection while creating a sense of anticipation and indulgence.
This week, we are bringing you some of our favorite candle packaging designs that can get your creative juices flowing on how to design your own custom boxes to be structurally feasible and aesthetically appealing.
Byredo candles are richly scented and housed in smoked glass. Due to the delicate nature of the candles, Byredo opts to package them in rigid boxes with inserts. The inserts are custom made to fit the candles perfectly and protect them during shipping and storage. The rigid boxes come with a separate base and lid to offer salespeople at Byredo stores an easy way to package the candles and customers to easily unpack. In order to keep the luxurious feel intact, they went for plain white boxes and minimalistic, black colored prints.
Waterworks Apothecary's candle packaging offers an alternative to custom made inserts. Their shoulder and neck rigid boxes are made to exactly fit the candle and prevent it from moving about when it is being stored or transported. The candles simply slide into the box, which is then sealed.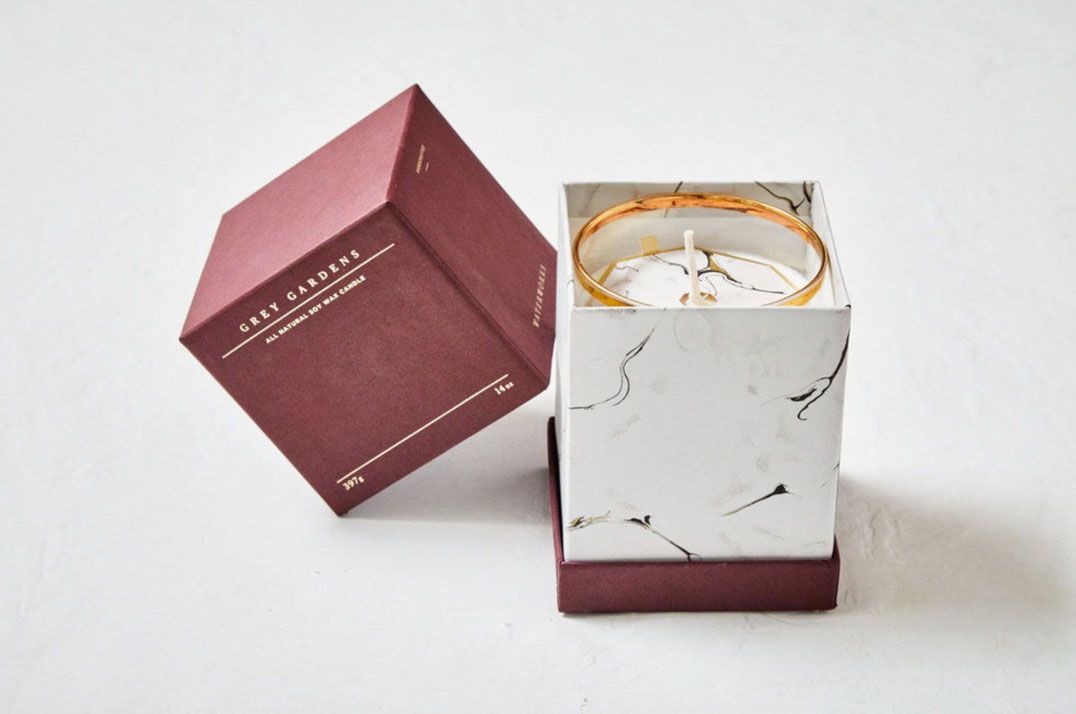 The elegant marble texture of the boxes is a reminder of all things fancy and luxurious. The gold foil stamping of the logo hints at the high-quality of the product and the brand.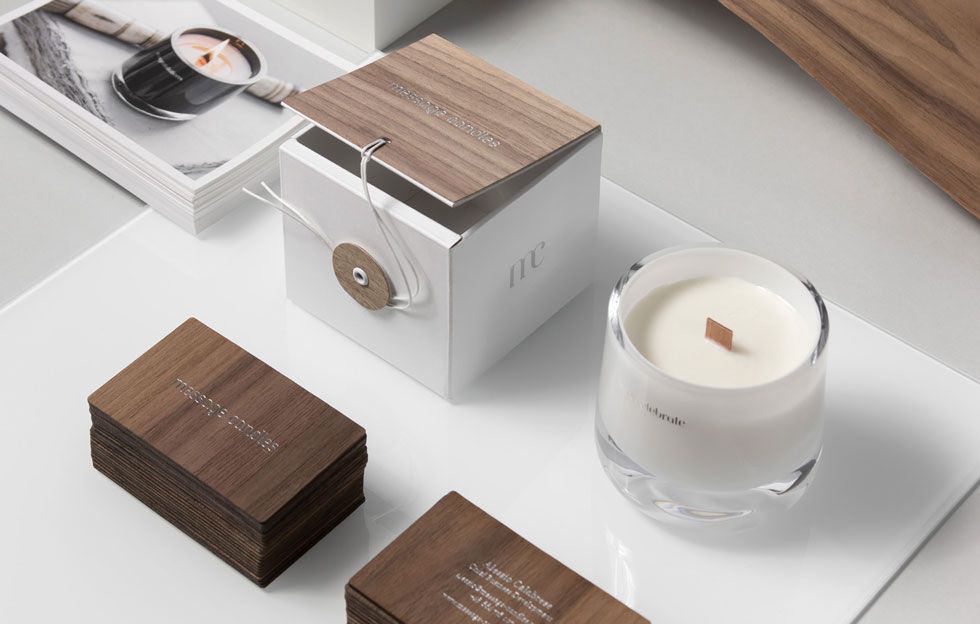 Mia Colonia adopts a creative way to enclose their candles in their custom made boxes. These small candles are packed into rigid boxes with the lid attached to a hinge. The lid has a string fastened to it which is wrapped around a button shape on the front side of the rigid box. The brand chose a wood and white printing combination and silver foil stamped the logo on the to denote a simplistic and luxurious feel. These boxes come as a part of a gift set and are packaged into bigger boxes along with other items and shipped off to customers.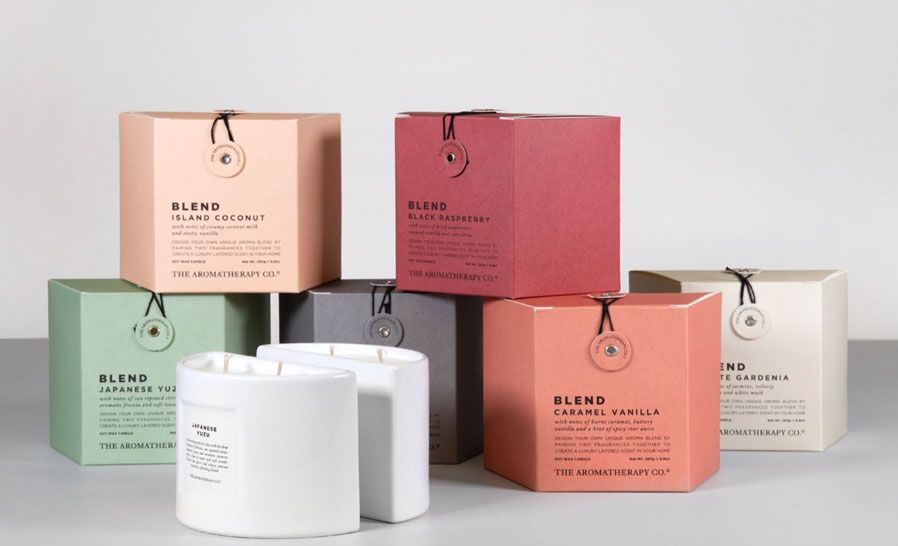 Why stick to the cube and cuboid-shaped boxes? The Aromatherapy Company has not only gotten creative with their candles but also the boxes. These semi-circular candles are designed to be paired with another semi-circle and lit simultaneously to give consumers a blended aroma.
Each of these semi-circles is packaged in a semi-hexagonal paper box. A warm color palette represents each aroma with the label containing information about ingredients and possible combinations with other aromas. Similar to Mia Colonia, these boxes are also enclosed using the thread and button mechanism.
Tom Dixon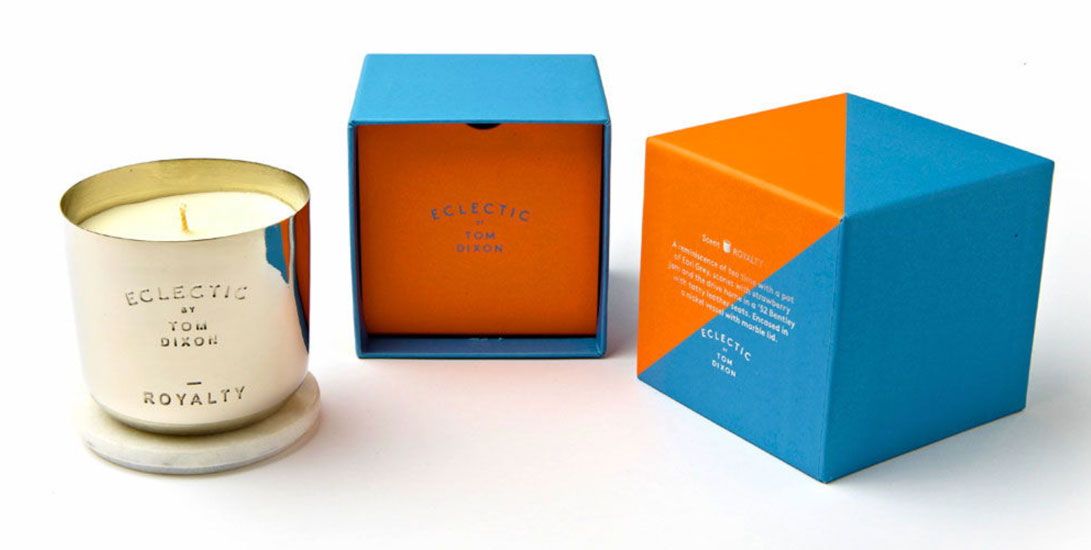 Tom Dixon's candles, hand-poured with 100% natural ingredients, not only smell great but are also packaged in an appealing and colorful box. This box is a hybrid version of a rigid box and tray and sleeve packaging. The base of the rigid box acts as a tray that holds a sleeve in it containing the candle. The sleeve slides into the tray and the tray is enclosed with the lid of the rigid box. These two layers of casing act as a study protection for the candles. The use of bright and bold colors ensures the packaging stands out on any retail store shelf.
--
These candles packaging designs can help you revamp your current packaging or even help give your creative side a little push to implement similar ideas in packaging other products. Check out some of our other Weekly Favorite packaging ideas for more inspiration: