Jewelry packaging is more than just a protective casing; it's part of the overall product experience. It should encapsulate the value and beauty of the jewelry piece inside, treating each unboxing like a special occasion.
For example, innovative earring packaging ideas can transform the simple act of purchasing jewelry into an unforgettable experience. The packaging needs to provide protection for the delicate earrings, but it can also convey the brand's creativity and uniqueness.
Presenting the jewelry
Custom Jewelry Display cards
Display cards are pieces of cardstock with cutouts to hold the jewelry in place; they are often placed inside additional packaging (e.g. pouches, adhesive plastic bags, or boxes).
They're suitable for items that would tangle easily, such as necklaces or bracelets with a fine chain. Being flat, they are affordable to ship, minimizing overhead costs. However, display cards are less suitable for chunkier and heavier styles of jewelry such as bangles. They are not very protective, so extra packaging (e.g. mailer boxes, void fillers) would be necessary for shipping, especially for more fragile or expensive items.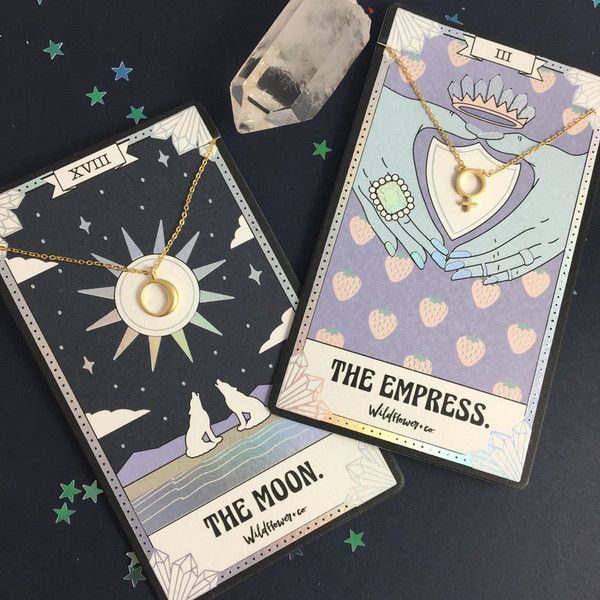 Jewelry display cards can be custom-made to be branded and match your jewelry line's aesthetic and values. For example, a brand with a more organic and sustainable image could consider using cards made of kraft or seed paper (recycled paper embedded with seeds that will grow if the card is planted).
Customization can also be used to further showcase the jewelry – in the examples above – Wildflower Co's tarot card-style display cards draw attention to the necklace charm. Happy Jewels by Katy display cards are blank apart from their logo, which lets the colors and design of the jewelry stand out.
Custom Jewelry Pouches
Jewelry pouches have various types of closures – drawstrings, snap buttons, ribbons/ties, etc. They can be used in conjunction with display cards and boxes (e.g. a pouch can be placed within a jewelry box or vice versa).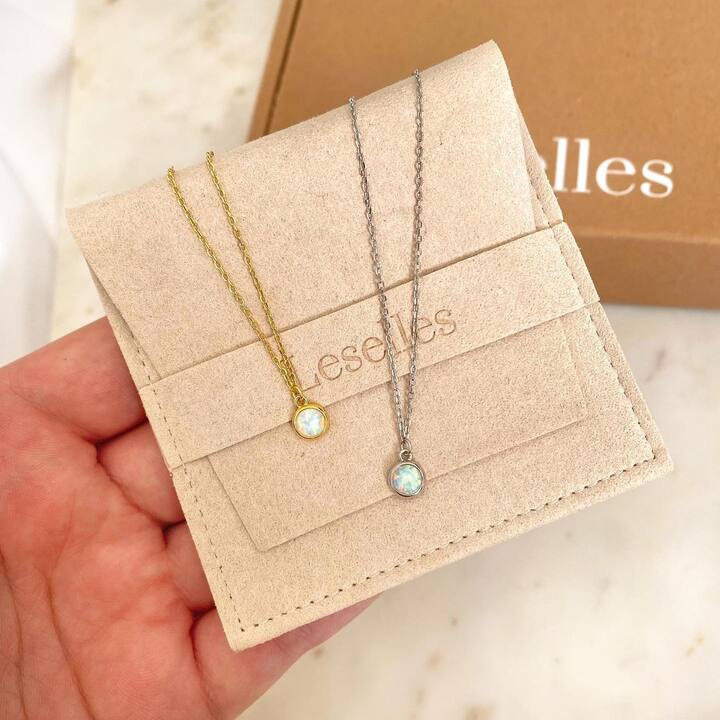 Pouches are practical in that customers often keep them to store or carry jewelry (or other items). By extension, branded pouches can act as passive advertising. They are also very versatile – the same pouch, size allowing, can be used to ship all types of jewelry from earrings to necklaces to bracelets. If made of a soft material (e.g. suede, felt, velvet), pouches can prevent scratches. However, they are less suitable for fine chains, as they could tangle within the pouch. Beyond preventing scratches, they don't provide much protection, such as shock absorption, and thus may not be suitable for more delicate or precious items if used alone.
Pouches are also customizable in terms of material, colour, and design to tell your brand story. For example, canvas pouches would suit sustainable or eco-friendly brands (being biodegradable), whereas suede or velvet pouches give a more premium feel.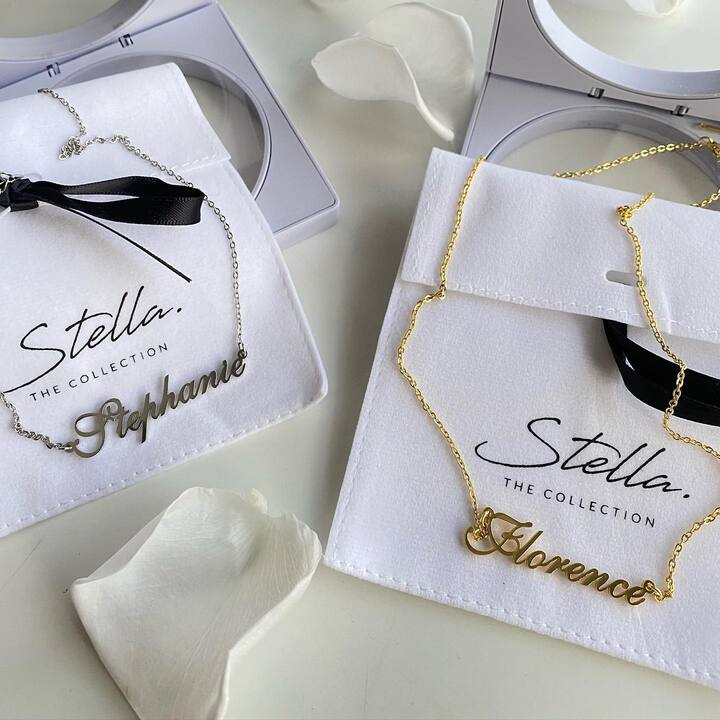 Brand logos and other designs can be displayed on the pouch, such as via gold foil stamping or printing. Leselles Jewelry suede pouches are in a neutral shade that compliments both silver and gold jewelry, with their branding debossed on the tab closure, creating a chic and luxurious impression. Stella the Collection custom jewelry pouches are modern and feminine, with a black branding printed on white fabric and closing using a black ribbon.
Custom Jewelry Boxes
Jewelry boxes are the most protective and luxurious type of packaging. Typically, jewelry is packed in rigid boxes – such as a lid-and-base rigid box or magnetic lid rigid box – because they are very sturdy. Boxes offer more protection than pouches or display cards, especially if paired with a box insert to secure the jewelry within it. Like pouches, the same box can also be used to ship different types of jewelry. However, they may be more expensive to ship to customers since they aren't flat.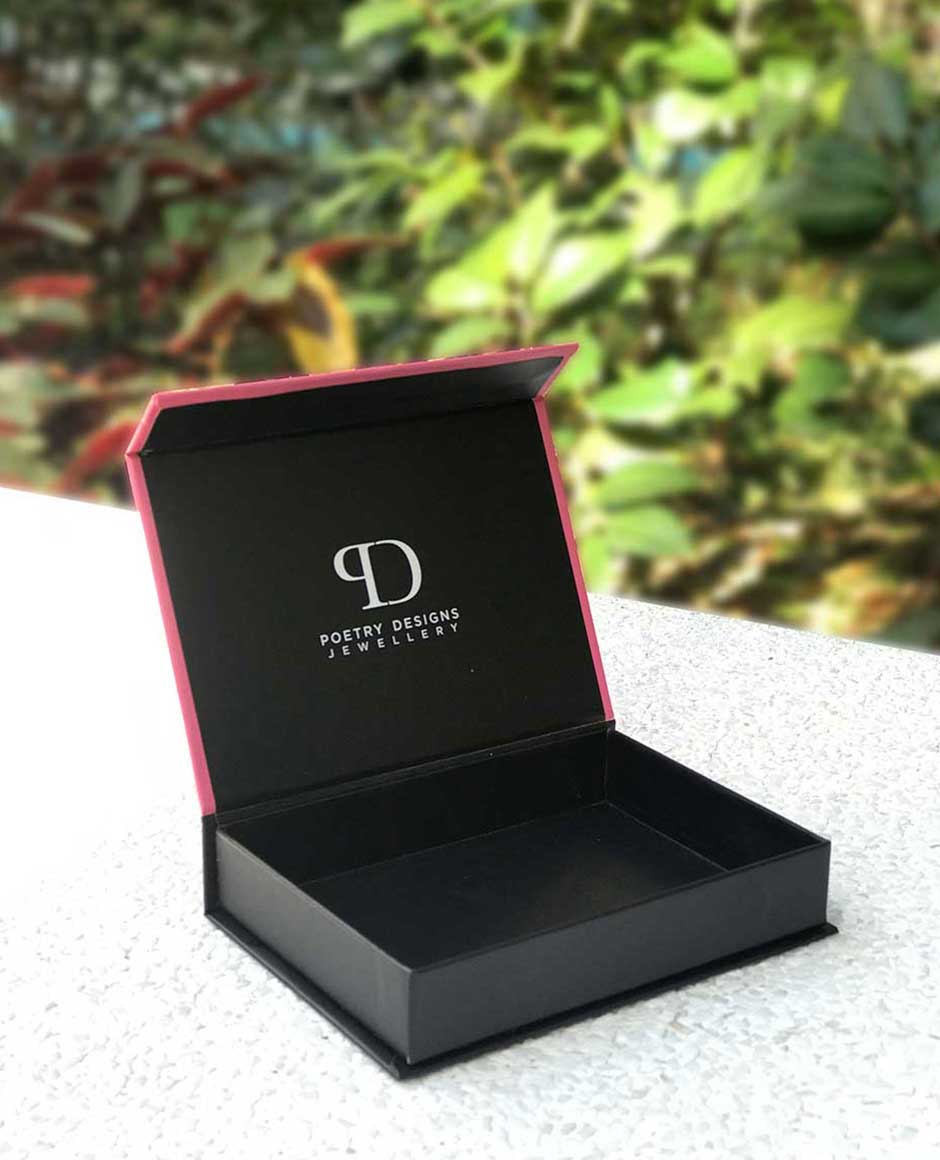 Jewelry boxes are highly customisable – in terms of size, material, print, finishes, and extras (e.g. embossing, spot UV) – and thus can be designed to be cohesive with your branding. For Poetry Designs Jewelry, PackMojo created magnetic boxes in their brand colors that opened to reveal their brand logo for a minimalist yet impactful unboxing experience.
Meanwhile, L'Veine Jewelry uses all black rigid drawer boxes with their brand logo in UV spotting, for a modern and sophisticated look.
Further protection – packaging for shipping
In addition to the packaging that showcases the jewelry, extra packaging is often necessary to protect these items during transit. Various types of packaging can be used depending on the size of the order, from poly mailers and cardboard envelopes to shipping boxes.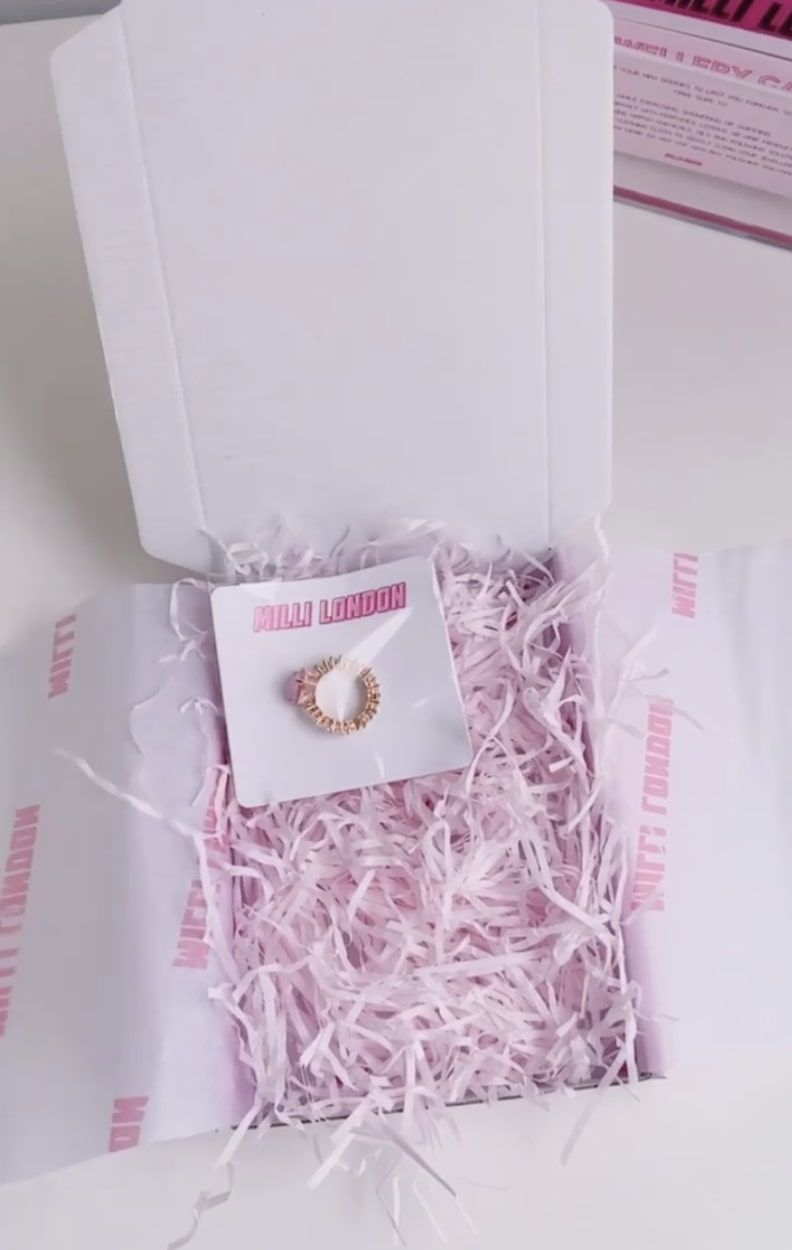 Extra cushioning (e.g. bubble wrap, void filler) can be added between the branded jewelry packaging and the shipping packaging. All these elements can help your brand stand out – for example, shredded paper void filler in your brand colour(s), branded tissue paper or mailer boxes, custom tape or stickers – and thereby provide a cohesive unboxing experience.
Jewelry Packaging Enhancements
Even small details can help to grow your brand or add a heartfelt touch. For example, adding a thank you note can help convey your gratitude to customers and contribute to a better customer experience. Having your social media handles written somewhere in the packaging, be it on a small card or on the box itself, could grow your online presence. Both of these examples can help encourage repeat purchases and more growth in the future.