Chocolates, who doesn't love them? You're likely to pick one up when you're craving it but most chocolate brands aren't just looking to sell to people who are craving the sweet treat. They want chocolates to be an inviting, attractive, and impulsive purchase. In order to achieve this and stand out from competitors, the packaging and branding materials along with the marketing need to be top-notch.
This week, we are excited to be talking about our favorite packaging for chocolates. Check out these 5 companies who have made their chocolate packaging so enticing, that it is bound to catch the customer's eye!
Bind Chocolate
Bind Chocolate stepped up decided to ditch the cliche heart-shaped box of chocolates to try out something new with their packaging design. Their hand-made chocolates are packaged in a book-shaped rigid box. This 'Book of Love' chocolate packaging comes with 'extra pages' for the company to print their branding and product information.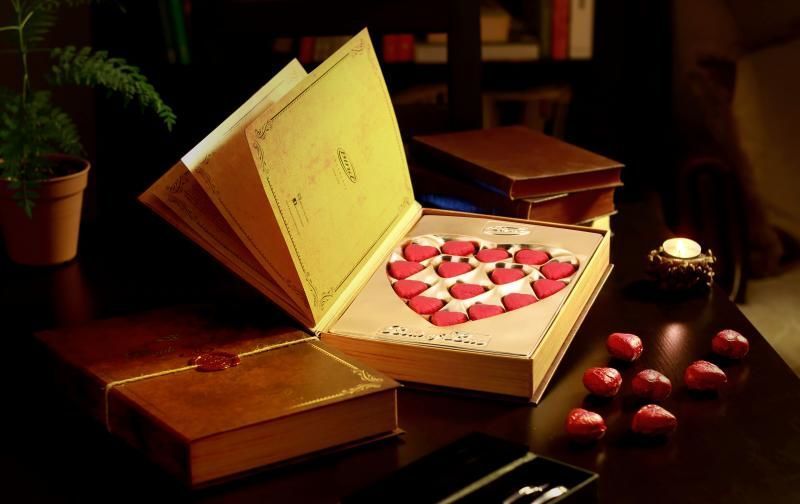 This paper-based rigid box comes with a hinged lid. These kinds of boxes are generally not collapsible and are assembled by the manufacturer. The box also includes custom inserts to fit the chocolates into. Inserts are one of the more common elements included in chocolate packaging. However, do keep in mind that when it comes to packaging food, it is important to make sure that the packaging is food-grade.
COCO Chocolates
COCO's Art of Chocolate line includes some bright and abstract designs. COCO collaborated with artists around the world to launch innovative packaging for their chocolates. "Each COCO product is wrapped in specially commissioned original artwork... minimal labels become gallery captions framed within the artwork with artists credited front and center." said the brand.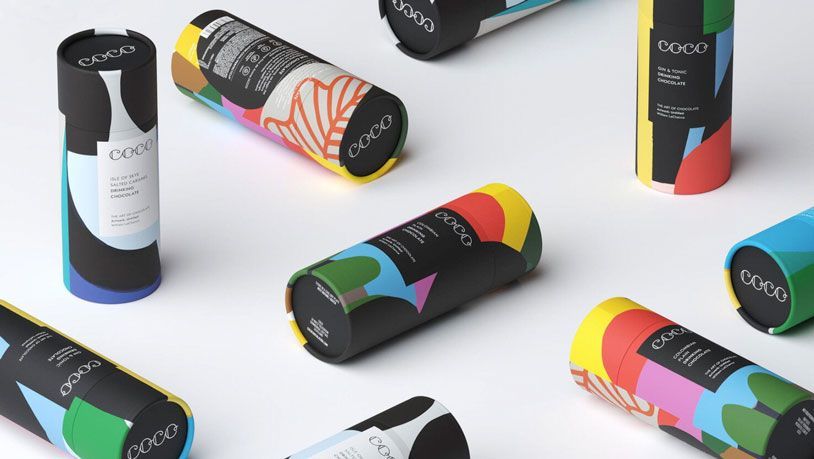 They chose to go for cylindrical tubes which just like the design is something new and previously unseen when it comes to chocolate packaging. To keep with the minimal theme, the brand has also designed a set of pictorial representations of their logo and brand statement.
Carpe Koko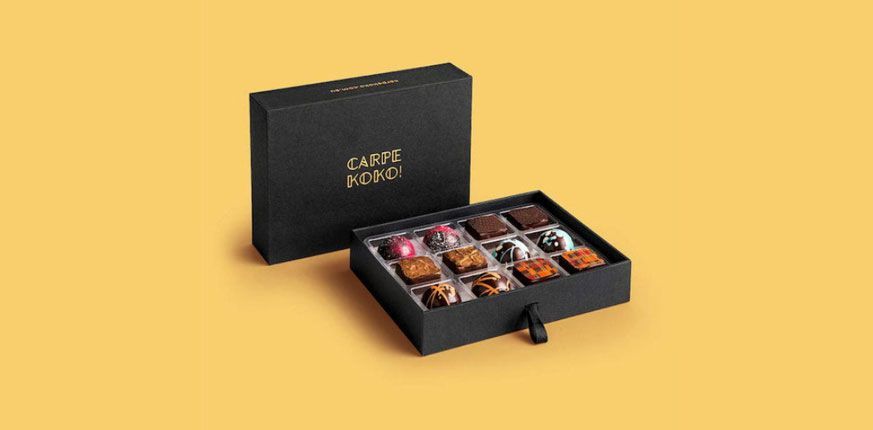 Carpe Koko, a luxury chocolatier, uses tray and sleeve boxes, otherwise known as a rigid drawer box, to package their chocolates. The sleeve follows a minimalistic design with a plain black print with gold foil stamping on the logo. The tray (or drawer) contains inserts to hold the chocolates, and the ribbon helps make it easy to pull out the drawer.
Sokolandine Pica by Ruto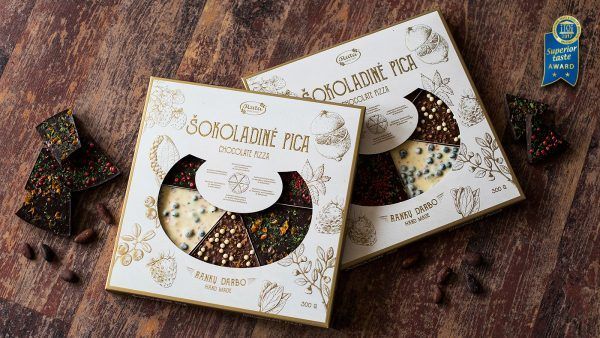 Sokoladine Pica is a chocolate collection by the company Ruto. This pizza lookalike chocolate is packaged in folding carton boxes. The slices of chocolate are all of the different flavors giving customers the best of all worlds. The folding carton box comes with a cutout window in the front that gives the customer a sneak peek into the visually appealing chocolate bars.
The packaging design is complete with drawings of the ingredients used in the chocolates along with the logo and a pictorial representation of each slice and ingredients.
Toblerone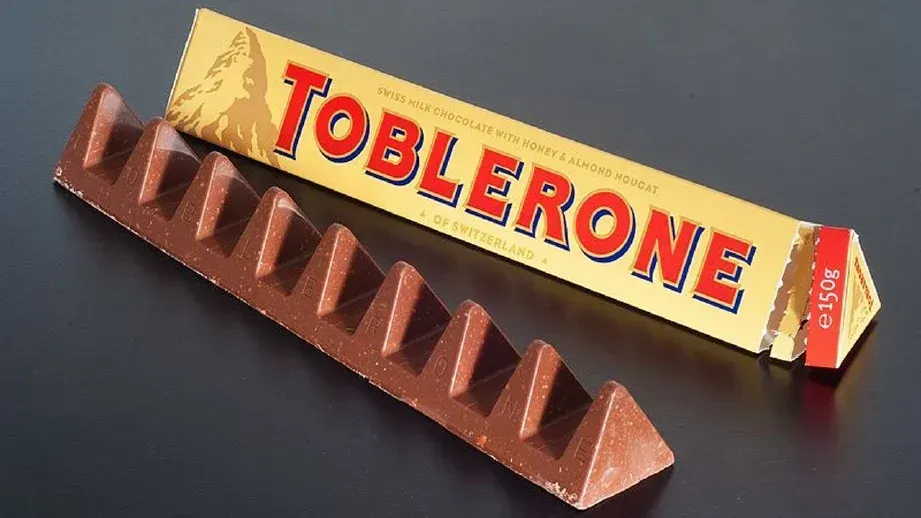 When it comes to chocolate packaging, the Toblerone packaging is iconic. It is said that the triangular packaging is based on the shape of the Swiss Alps. Toblerone was one of the first companies to experiment with different shapes when it came to chocolate packaging. Customers immediately recognize the packaging regardless of the chocolate jumbo or tiny sizes.
Interested in Packaging? Check out some of our other Weekly Favorite blog posts.