As much as you want highly functional products and appealing well-branded packaging, the printing process is something that cannot be ignored. With advancements in technology, printing techniques have come a long way. Thanks to a wide range of printing techniques, you have the choice of picking one according to your budget, volume, and quality. This guide aims to introduce you to the different printing techniques in packaging and how they could be used to make your custom packages stand out.
While there are several types of printing methods, lithography (offset printing), flexography, and digital printing are considered the 3 core techniques. Other techniques include screen printing, rotogravure, etc.
Lithography (Offset Printing)
Lithography is also called offset printing. In offset printing, the ink is first placed on a metal plate, then transferred to an offset plate, before printing onto the substrate paper. If you are using the CMYK color system, you would need 4 plates, one for each of the CMYK colors. Offset printing can also work with PMS colors and combinations.
It is important to note here that when using offset printing, the cost depends on the number of artwork designs you have and not the number of structural designs. For example, if you wanted 1000 boxes each for 2 different designs, you would be charged for each design since it would require the changing of the plates, creating new plates, and switching plates during printing. However, if you were to order 2000 boxes of one design, it would be cheaper as there would be no need for changing plates during the printing process.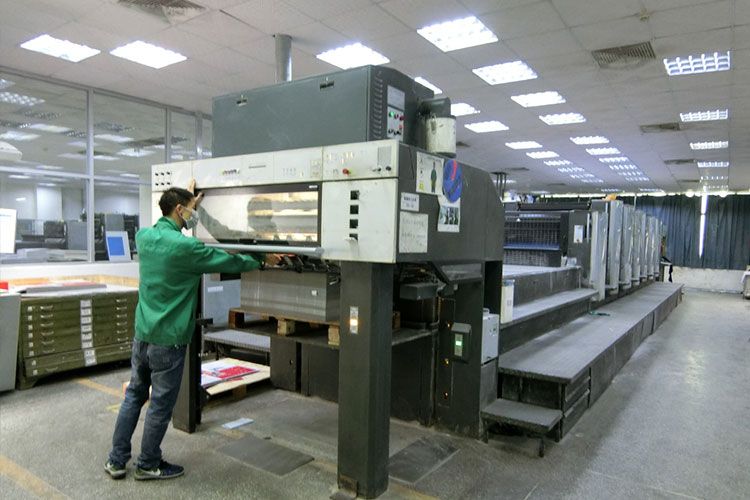 Offset printing is commonly used to print in bulk and yields the highest quality print in terms of color, sharpness, and crispness. It is very common for most high quality packaging to be produced using offset printers. Though, in the US, the volume requirements are also generally much higher for using offset printers (e.g. 5000 units). Below this volume, digital printing is used more often in the US.
We at PackMojo primarily use offset printing to produce great quality packaging at affordable rates. Thanks to our access to offset printers across our supplier network, we can not only provide offset printed packaging at low volumes starting at 30 units, but we are easily able to cater to higher volumes (400+) as well. At volumes like these, the unit costs drop without compromising on high-quality packaging through offset printers.
Flexography
Flexography, also called "Flexo", is similar to offset printing. In the case of flexo, it transfers ink from the plate directly to the substrate, which in this case is paper or other material you are using for your packaging. An easier way to think of it would be as if you're stamping something - the plate acts as the stamp. Just as in offset printing, the plate can only have one color, so if you are using the CMYK color system, you will need 4 different plates.
Flexo can support printing for large quantities and is much cheaper than offset printing since there is no need for an extra medium during the printing process. However, the print quality is lower than offset printing and you will have challenges producing detailed designs and multiple colors. It is often used to print plastic pouches and food wrappers.
Digital printing
Digital printing is most commonly used to print small scale jobs. The printers you have at home usually rely on digital printing. It does not rely on plates but rather on toners and cartridges. Large commercial printers are used for print jobs that have a slightly larger quantity (50-100). These printers sometimes rely on liquid ink.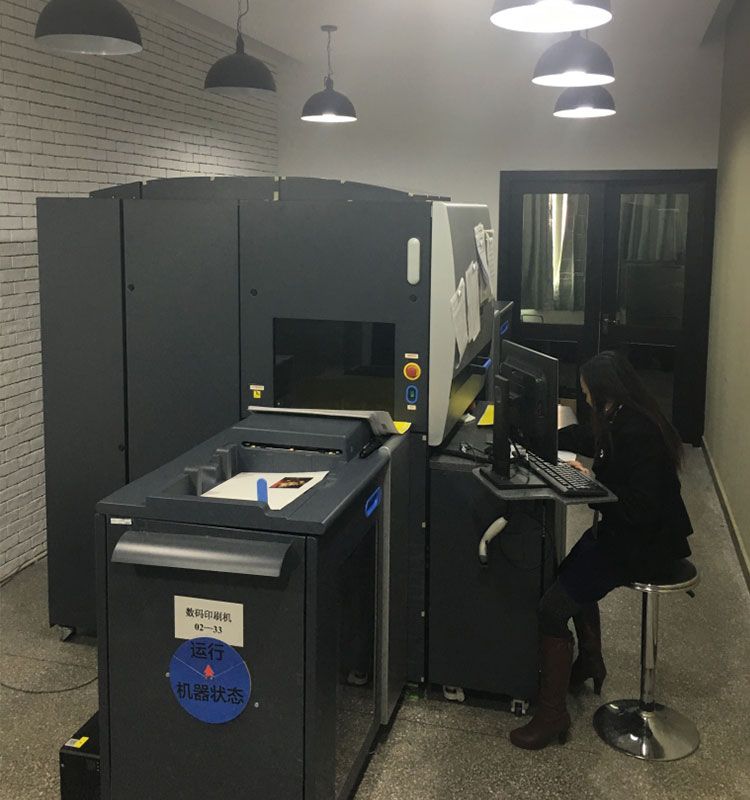 In the case of digital printers, there is limited need for setup. The computer is used to prepare a design and can instantly be printed. A lot of factories in the US use digital printers cater to low volumes through that. Digital printing allows these factories to charge per structure rather than per design - all they have to really do is change the artwork on the computer before printing it out. Thus, whether you have 5 different designs of 200 units or 1000 units of one design, you are likely to be charged the same. If you have a smaller budget and need lower volumes, digital printing would be a cost-effective option.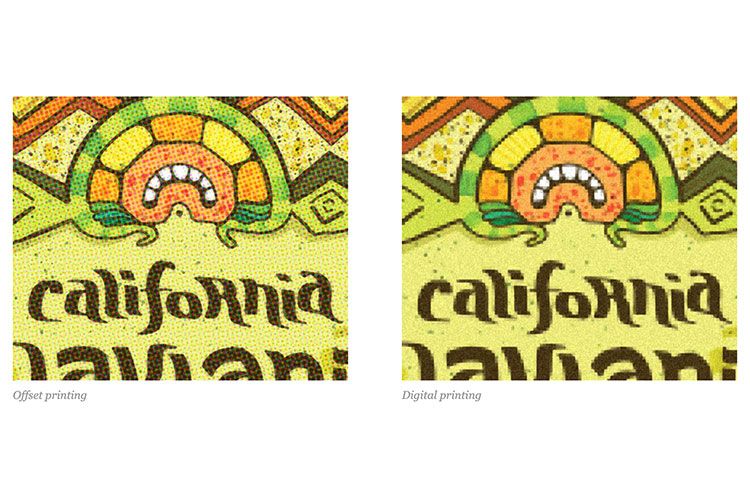 However, digital printing comes with its own set of drawbacks. Since toners and cartridges are expensive, choosing to print large volumes can end up costing a lot of money. Digital printers often cannot support PMS colors like offset printing can and it is hard to ensure a high-quality, accurate print. Using them to print large color blocks can also cause a mismatch in tones or cause white lines to appear after printing. As seen in the image above, digital printing can yield a blurry or pixelated outcome, which can be obvious to the naked eye. In offset printing, you'll notice that the quality is much more crisp and isn't blurry. While you may see the small dots, this is only really visible if you used a magnifying glass.
The image below will also give you an idea of the difference between offset printing and digital printing without magnification. You can see through offset, the print comes out much sharper.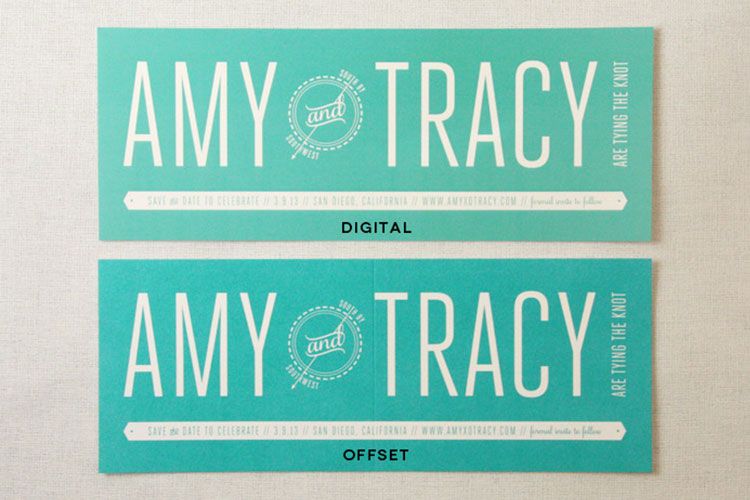 Screen printing and rotogravure
Screen printing and rotogravure are less common than the above three methods. Screen printing, also called silkscreen, is done using a mesh screen that has a stencil of the design that needs to be printed. Ink is transferred through the mesh onto the substrate. The screen printing process is slow but also one of the cheapest. If you are going for something that is detailed and custom, have a lower budget, and require very low volumes, then silkscreen is something you can consider. However, screen printing is an extremely labor-intensive process which also makes it prone to more errors. Also, it cannot produce photo-quality images and patterns since it is done by hand.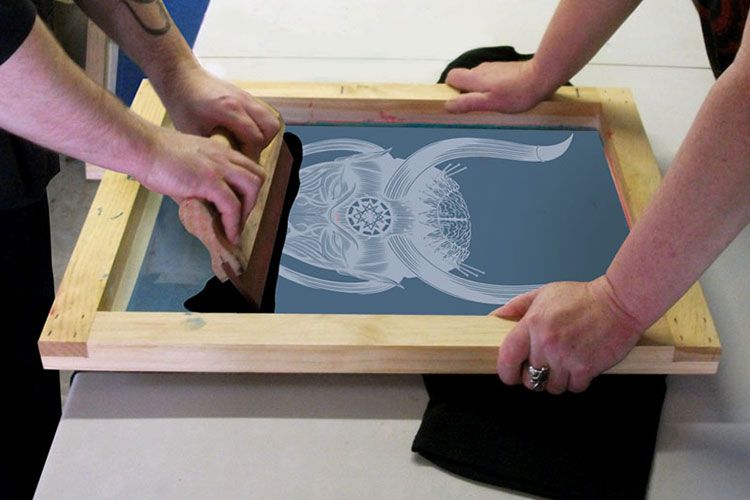 Rotogravure or gravure printing is the process of etching your design onto metal cylinders and using them to transfer ink onto the substrate. This process is probably one of the most expensive. Though, it does result in high-quality prints and can easily accommodate the CMYK color system as well as PMS. It would require high volumes but gravure is not as commonly used as offset printing.
Printing is an extremely rewarding process. A chance to see your packaging come to life. There is no best method and one size does not fit all. It is best to list out your requirements and see which technique works best for you.
Want to know more about our printing process and packaging offers? Reach out to us at support@packmojo.com!