Picture this! You placed an order for a beautiful pair of earrings from your favorite luxury jewelry store online. It's been a week or two and your order is finally being delivered. Now you know what you order and you can't wait to wear it. You hope to just rip open the box once it reaches your hands.
But wait, what's this? Your order arrives in a beautifully packaged custom designed box. You don't have the heart to rip it open anymore. Packaging can really make an impact on how you perceive a brand and a product. It delights, excites and ultimately encourages you to buy more. Especially when it comes to jewelry, custom packaging can really level up the unboxing experience.
The 5 brands below have employed the idea of custom packaging for their unique jewelry designs.
KK Jewelry Lab
KK Jewelry Lab based in Greece decided to ditch the regular rigid boxes and go for a paper based, origami style packaging for their earring and pendant collection. A paper insert holds the product itself and sits inside the origami style box.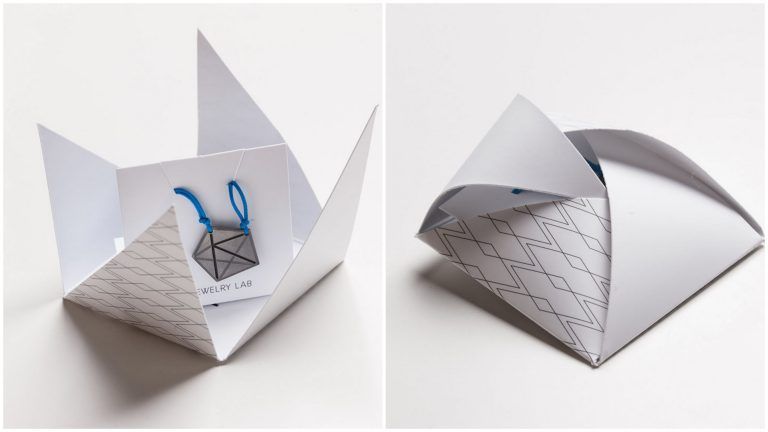 This kind of packaging is not only sustainable and easy to dispose of, but can also be used to store the product as it is small and doesn't require a lot of space for storage. What's more? It is easy to assemble and customers find it easy to open and reseal the packaging.
BE.ARUM
BE.ARUM uses drawer boxes to package their luxury jewelry designs. Drawer boxes are similar to tray and sleeve boxes in the sense that they have two components - a tray and a sleeve. However, unlike tray and sleeve boxes that full slide out, drawer boxes slide out only to an extent. The box comes with a little ribbon that acts a knob to pull the drawer out easily.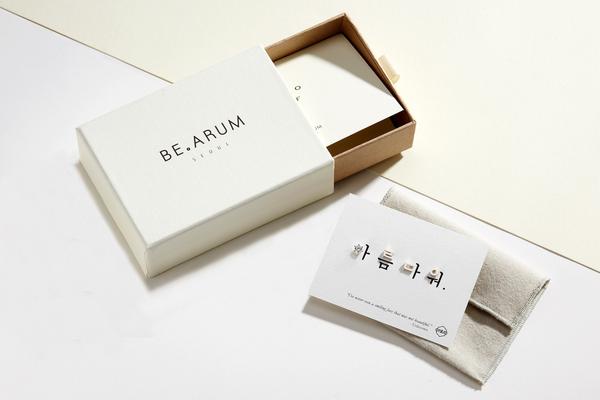 These boxes are built with the same material as rigid boxes thus giving the packaging the same rigidity and sturdiness that rigid boxes do. These boxes are also perfect for storage of all your BE.ARUM products together.
Meadowlark Jewelry
Meadowlark Jewelry makes aesthetic and luxury looking rings with the purest of metals, set with precious stones. Their packaging resonates the same luxury and aestetic appeal that their jewelry does. Their rings are packaged a rigid box. What's unique about it is the basic shape of the box itself. If you are expecting a box that looks like the Tiffany's ring box, you'll be pleasantly surprised. The hexagonal box gives the brand a unique feature, one that many will always remember. The box also includes a foam insert that holds the ring in place and prevents it from getting damaged during shipping.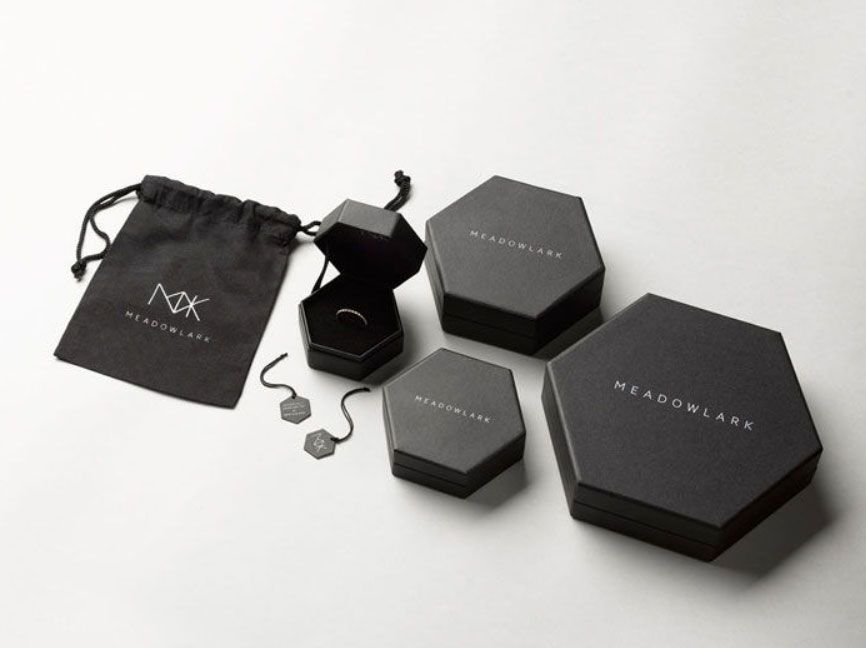 Elementum Jewelry
Elementum Jewelry makes jewelry taking inspiration from heavy metal in the Earth. They use high-end materials like stainless steel, pure titanium, and natural samarium cobalt magnets. For their packaging, they translate the same in the form of color and specific features. They use magnetic rigid boxes to ensure the boxes snap shut just like some of their bracelets do.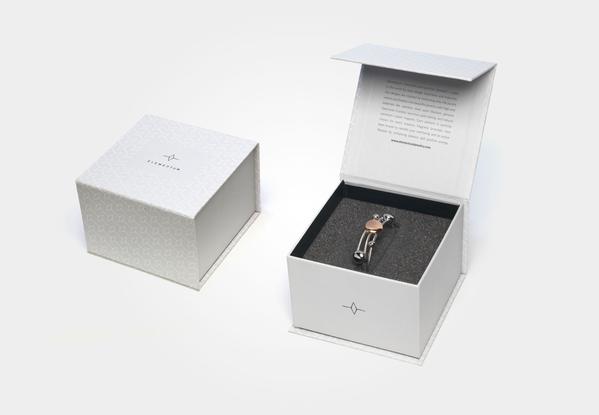 They use minimal black color print, except the logo, and stick to metallic color palletes and white designs. Inside the box, they give their customers an insight into the product and the inspiration behind it. This allows customers to tell their friends and family, in specific detail, about the product and the brand.
Wish
Wish Jewelry Designs, based in Colombia, uses envelope style packaging for their rings, pendants and necklaces. Necklace packaging requires a delicate balance of style and protection, as it presents a precious item in a way that highlights its beauty. The design often includes elements to secure the necklace and prevent tangling.
The envelope contains a paper insert that holds the product and a small note for the customer. Custom stickers can also be used to seal the envelope in place.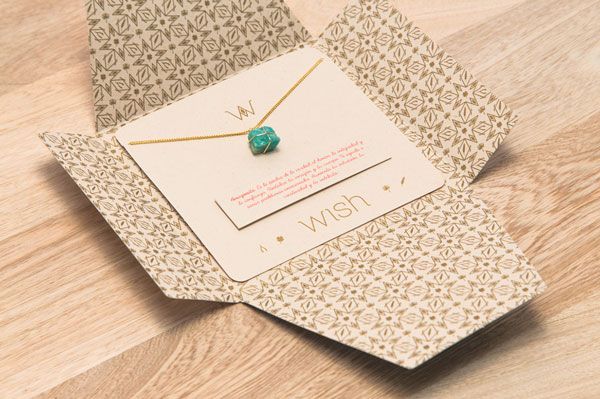 Envelopes are not only easy to store for any brand but also easy to assemble. However, be sure to secure the envelope in a polymailer or another box if you are going to ship it to your customers.
--
Inspired by these jewelry packaging designs? We are too! Though, we understand that execution of custom packaging designs can be tough. Check out our services that aim to make your life as brand owners easy.
Opt for dieline or structural design services and we'll help you build your design template or structure your box from scratch. Already have a dieline in place but looking for design inspiration? We can help with that too! Take a look at our artwork services where a team of experts design your boxes according to your requirements.  

Check out some of our other weekly favorite blog posts: